Refractory cotton
Ceramic asbestos (bulk ceramic fiber) is a high temperature refractory insulator made from alumina and silica fibers. This product is composed of loose and flexible fibers.
Production methods
There are several ways to produce this product, including:
Taft with fiber
Spun with fiber
With chopped fiber
Taft fiber has the smallest fiber size and is more flexible than other grades. Spun fiber has longer fibers and higher tensile strength than woven fibers. Spun fiber is the most common type of this product that is used in various applications. Chopped fiber has the largest fiber size and is bulky in appearance.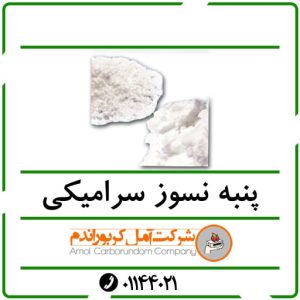 Some general uses of this product:
Common applications of ceramic asbestos include sealants, fillers, and insulators for high temperature environments. Temperature grading will vary depending on the product. Based on the use of pure raw materials and the best spinning technologies in the market, Amol Carborundom Company offers a wide range of bulk fibers (branded as a cotton burner) and shredded in different lengths, medium diameters and chemicals with optimized properties. Offers to fit a variety of applications.
AC-WOOL-B 1260 ° C and AC-WOOL-B 1430 ° C are available as main products supplied by Amol Carborundom from the best foreign manufacturers. The maximum temperature of use of this product depends on the final application. This product, except for strong alkalis, phosphoric acid, hydrofluoric acid and molybdenum, shows high resistance to other chemicals. If this product is exposed to oil or water, its thermal and physical properties are fully restored after drying.
Product features provided by Amol Carborundom Company:
Excellent insulation performance
Excellent heat shock resistance
Low heat storage capacity
Different combinations, grades and forms to meet a variety of needs
Various applications of ceramic asbestos
Expansion joints
Kiln kiln
Making tube insulation
Thermal and acoustic insulation
Purification environment
Reinforcers and fillers for plastics, resins and paints
Fillers for insulation mastics and cements in the petrochemical industry
Raw materials for vacuum form plates, boards and Z-BLOCK
Technical Specifications
In the following table, you can see the technical specifications of this product: