Vacuum form
Vacuum forms are produced and supplied in two general categories: 1260 degrees and 1430. The ceramic fibers used are mainly aluminosilicate materials, which are usually reinforced with polymer resins.
How to use the vacuum form
Vacuum forms are usually installed using steel anchors or special mastic insulation in the place of the furnace sight valves and are resistant to heat shock caused by temperature drop (opening and closing of the furnace sight valves).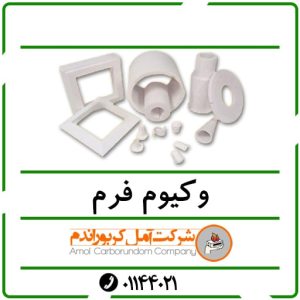 Vacuum features of AC-WOOL forms  
High temperature stability
Heat shock resistance
Low heat storage
light weight
Good chemical stability
Some important applications of vacuum form:
Inspection Door Insulation
Insulation around furnace doors
Insulation and insulation of expansion joint at the installation site of sponge iron furnace openings
Insulation of radiant pipe sections in boilers and furnaces
An asbestos-free alternative ideal for asbestos and its products
Technical Specifications
The following table shows the technical specifications of the product: