Refractory ceramic coating (AC-Cer Coat)
Refractory ceramic coating is a combination of ceramic powders and organic and mineral binders. The distinctive feature of this product is its high radiation coefficient, which is close to the black body . This important property increases the ability to absorb and re-reflect energy into the furnace and, therefore, leads to better temperature uniformity in the furnace environment. AC-Cer Coat ceramic refractory coating maintains the physical and chemical stability of blanket , module, board and light and heavy bricks by creating a heat shield, and therefore significantly increases the life of refractories. This very dense coating acts as an impermeable barrier against corrosive gases and combustion gases and prevents corrosion and damage to the metal structure of the furnaces. It also stabilizes the ceramic fibers and prevents fiber loss.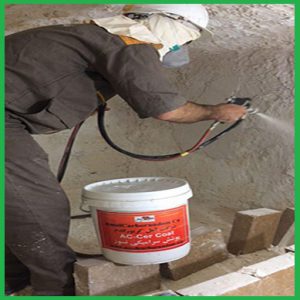 How to use AC-Cer Coat refractory ceramic coating
In the following, you will get acquainted with how to use AC-Cer Coat refractory ceramic coating. This product is ready to use and is offered in two basic grades of alumina and zirconia with the code and technical specifications according to the table below. The proposed composition is completely viscous and concentrated in order to minimize gravity separation during transportation and storage, and on the other hand, the more concentrated the composition and the lower the amount of water. In terms of mechanical properties, it creates a better coating. This composition is formulated based on working with a brush or roller. To speed up the work, you can also use bitumen sprayer, multi-color sprayer or Knittex sprayer. In these cases, it is necessary to dilute it with a little water (0.5 to 1.5 liters for 30 kg buckets) and then with The mixer was thoroughly mixed to obtain a viscous and uniform mixture.
Suggested consumption instructions:
Recommended thickness 5-0.75 mm
Consumption rate of 5 to 1.1 kg per square meter
Technical Specifications
The technical specifications of this product are described below.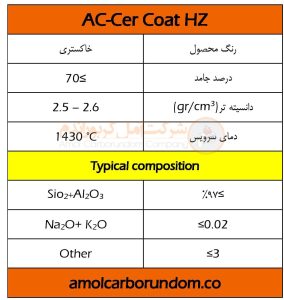 Advantages of AC-Cer Coat refractory ceramic coating
Ease of mixing and applicability with the help of spray, brush and…
High thermal resistance
Excellent adhesion and connection to refractory bricks, mass, modulus, blanket, board, graphite plants and…
High dry strength due to suitable binders and excellent curing strength resulting in ceramic bonding
Significantly increase the life of refractories and loose metal furnaces by creating a dense and impenetrable barrier