Heavy bricks (alumina bricks)
Heavy bricks (alumina bricks) can withstand very high temperatures as well as prolonged exposure to direct flame. Amol carburetor heavy bricks are commonly used in industry. These bricks are often used to build various types of fuel chambers and boilers.
They are also widely used in coal stoves. Heavy alumina bricks do not deform and do not crumble even with prolonged heating. Heavy bricks do not have complex compounds, but they have a high density due to the use of alumina raw materials. For this reason, these bricks are called heavy bricks.
Amol carburetor heavy bricks are dense blocks of refractory ceramic materials that are mostly used in furnaces, direct contact lines with the burner.
Baking time is very important. Therefore, if too much raw material is placed in the furnace, a thin film of glass will appear on its surface. This film is completely durable and gives special resistance to heavy damage to heavy bricks. On the contrary, it reduces the original refractory properties.
Amol Karborund Company; Manufacturer of refractory bricks in different scales and dimensions
Refractory bricks are produced according to current standards (ASTM). While its size and weight can often change significantly (within the standard tolerance range). For example, from 3.5 to 6 kg, and dimensions 65x114x230 mm to 65x150x300 mm. In addition, alumina refractory bricks will have different densities and porosities depending on the type of order. Amol Carbrandem Company has the ability to produce and distribute heavy sloping bricks (arch) at different angles by molding all simple, complex shapes (based on the plan).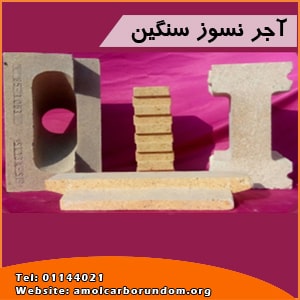 Characteristics of heavy bricks Amol Karborund
The color of the product should be light yellow, in other words the same color as the straw mixed with the brown material

The structure is granular brick

When you hit a heavy brick, you hear an audible sound like the sound of a metal bump.

Heavy bricks are characterized by their higher degree of strength than other items on the market. Therefore, if minor damage is done to the body, the overall structure remains unchanged.

Low heat resistance and thermal conductivity. The internal structure of the brick is not affected by prolonged exposure to high temperatures.

This material can withstand heat up to 1650 degrees or more.
Amol carburetor heavy bricks have a variety of applications in many industries. Here are some of them:
Heavy brick applications
Metal smelting furnaces, glassmaking and construction materials industry

Interior lining of blast furnace walls in steel

Cement kilns and coke ovens

Casting furnaces and oil and gas refineries
Records of installation of heavy alumina bricks and cooperation of Amol Karborund company
1- Hydrogen furnaces of oil refineries industries
2- Floors and walls of reformers of petrochemical industries
3- Walls and refractories of sulfur units in gas refining industries
4- Safety chamber walls of metal smelting units, glass factories
5- Interior lining of blast furnace walls Iron
6- Cement making and coking ovens
Technical Specifications