Ceramic blankets
Amol Carborundom Company provides high temperature ceramic blankets for a variety of activities that require thermal management and fire protection. This type of blanket used in high temperature, which is supplied by this company from reputable foreign companies, is used in many industries such as petrochemicals, power plants, oil and gas refineries and other parent industries.
Features of Amol Carborundom ceramic blankets
Ceramic blankets are highly resistant to chemicals and due to their special weight ratio, they have a unique performance in high temperature applications. Chemical resistance of these refractories is affected only by hydrofluoric acid (HF) and high pH bases (such as sodium hydroxide (NaOH)) and is very durable against other materials. The main feature of these blankets is excellent strength before and after heating.
The structure of ceramic blankets
These blankets are offered in rolls and have various densities and thicknesses. All blankets are made of long refractory fibers that have no glue or needles.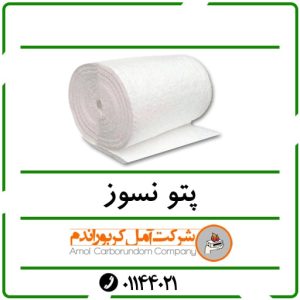 Advantages of ceramic blankets
Some of the main advantages of these blankets are:
Excellent insulation performance
Excellent thermal stability
Low heat storage
Heat shock resistance
Sound absorber
High chemical stability except against hydrofluoric acid and bases with high pH
Applications of ceramic blankets
This product is mostly used for insulation. Therefore, some of the most important applications of this material are:
Lining size of furnaces and kilns
Insulation of boilers
Primers for reformers and heaters
Insulation of gas and steam turbines
High temperature oven repairs
Furnace expansion space
Duct liner and piping
Thermal barrier in the automotive industry
Technical Specifications
In the following, we refer to the technical specifications of the product provided by this company: