Two-component refractory mortar
Insulation design using refractory insulation bricks or heavy insulation bricks in all units that deal with furnaces and high temperatures requires the use of refractory mortar as a monolithic material. Using refractory mortars, the two components of the bricks are placed on top of each other and connected.
The difference between refractory mortars of Amol Carborundom Company and conventional mortars
In conventional mortars, the bond between the bricks at 1100 ° C is seldom sufficiently strong because at this temperature virtually no stage of liquefaction takes place in the mortar. This causes many problems. For example, in ammonia reformer furnaces, the liner layers of the channel walls must be insulated against various factors in such a way that no adverse reactions occur; Now, if the improper mortar is applied in such a way that the sealing of the insulation bricks is not done properly, the whole furnace system will face very severe defects.
Amol Carborundom Company uses two-component refractory mortar in order to solve and prevent such problems in the construction and repair of its projects. Therefore, the problem that was a serious concern in the high temperature industry was completely solved with the production of two-component refractory mortar Amol Carborundam. This mortar with its higher strength and adhesion properties while placing bricks offers ideal conditions in all situations of the furnace.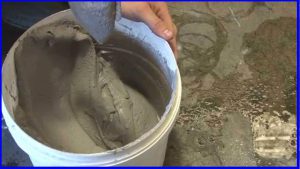 Features and Applications Two-component refractory mortar produced by Amol Carborundom Company
To ensure the seamless connection of light and heavy insulation bricks, Amol Carborundom two-component refractory mortar was made, the components of which include silica adhesive (water-glass with sodium silicate formulation) with hardener, high alumina cement and sometimes depending on the type of brick. The final filler is chamotte. For this reason, silica glue (glass water) has been used to be able to apply a layer with a thickness of 1.5-2 mm on different bricks (light and heavy) without any oscillation and easily. The ultimate goal of Amol Carborundom Company in making this refractory mortar is to study the physical and mechanical properties, increase the adhesion capability and increase the resistance to deformation of the insulation liner layer under high temperature conditions.
The main features of Amol Carborundom product are:
Wide selection of engineering formulations and applications that ensure optimal performance in individual applications
Excellent resistance to heat shock, mechanical shock and molten metals
Strong insulation, strong and at the same time light and effective
Excellent strain characteristics of refractory mortar produced by Amol Carborundom Company in high heating conditions are due to its property that it loses water at a temperature of 200-200 ° C and setting at a temperature of 700-700 ° C.
Technical Specifications
The following table shows the technical specifications of this product.