Refractory rope
Amol Carborundom Company is one of the professional suppliers of various types of ceramic fiber insulation such as refractory rope, products that have many different grades.
Refractory rope division of Amol Carborundom company
In general, fireproof rope of Amol Carburendem Company is divided into two general categories: woven and twisted.
Refractory rope structure
These refractory ropes are made of alumina-silica ceramic fibers and do not contain asbestos. Ceramic fiber rope materials can be used in various industrial applications at a maximum temperature of 1260 ° C. Refractory rope supplied by Amol Carborundom Company contains 15% organic carriers, which help to create the physical formation of products. Carriers burn at about 400 degrees Celsius. The company's ceramic fiber ropes also contain inconel wire or continuous fiberglass reinforcement. This increases the handling power during installation and increases the durability of the fibers to a temperature of 1100 ° C for inconel wire and 650 ° C for fiberglass.
Differences between AC-WOOL-R 650 ° C and AC-WOOL-R 1260 ° C fireproof rope
The company's products are available in two codes AC-WOOL-R 650 ° C and AC-WOOL-R 1260 ° C. Twisted ropes are made of ceramic fibers and reinforced with fiberglass or stainless steel. Woven ropes are made of ceramic fibers enclosed in a fiberglass or stainless steel wire fabric for excellent performance.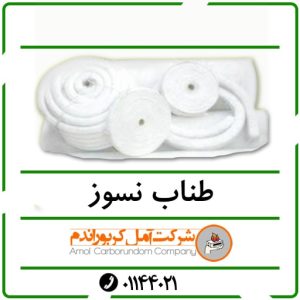 General features and applications of refractory rope produced by Amol Carborundom company
Supplied by Amol Carburendem Company, they have excellent chemical stability and strong resistance to heat shock and corrosion by chemical agents. They also show good resistance to oxidation and reduction. If the ceramic refractory rope is exposed to steam or moistened by water, its thermal properties are fully restored after drying and there is no water absorption in this type of ceramic refractory rope at high temperatures. However, care should be taken not to use ceramic refractory ropes in places where hydrofluoric and phosphoric acids and concentrated alkalis are used.
Features of AC-WOOL-R 650 ° C and AC-WOOL-R 1260 ° C fireproof rope:
High temperature stability
Heat shock resistance
Low heat storage
light weight
Good chemical stability
Some important applications of fireproof rope are:
Inspection Door Insulation
Flange and gasket insulation
Insulation and insulation of expansion joint for fire refractory bricks in kilns and kilns
Pipe insulation in offshore generators
Lagging lag of pipes
Radiation pipe insulation in boilers and furnaces
An asbestos-free alternative ideal for asbestos and its products
Technical Specifications
The following technical specifications of this product are given in the following table: