Ceramic Z-blocks
In general, aluminosilicate fibers with the ability to be used at different temperatures that are produced in the form of folds (z-shaped) or as a unit (pyroblocks) and are mostly installed in the roof areas or roof and wall corners of various furnaces. Refractory ceramic zebra blocks are lightweight insulation liners that are made as blocks for direct connection to industrial furnaces and furnace shells.
Durability and service life of these products vary according to the type of fibers selected, and the type of alloy used in the composition of this type of product.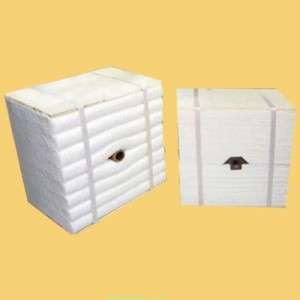 Consumption and major demand of this type of products, with a temperature of 1430 degrees and a density of 190 kg / m3, has the highest efficiency in the repair of body and roof furnaces in various industries, so that, by replacing this type of products instead of mass The refractories used, the increasing use of this type of product, has led to the construction of mechanized production lines of this type of product, in Amol Carburendem Company.
The effective components in selecting the internal anchor of ceramic blocks are usually the distance from the hot face and the mechanical strength of the alloy type. Also, the chemical resistance of ceramic fibers against corrosion of the internal atmosphere of the furnace, fiber length and diameter of ceramic fibers play a major role
The use of experienced industrial consultants in the construction of Zedblok needs according to the Zedblok plan and the furnace plan, which is usually designed by the installation procedure and using the instructions suggested by the manufacturer, as well as the use of proper coating after installation, providing excellent guarantees of the company's products. Amal is a carburetor that has achieved more than expected efficiencies compared to other products in different industries of Iran as a result of valuable experiences of the company's experts.
Technical specifications of ceramic zebra blocks of Amol Carborundom company