Fiber ceramic refractory paper
Fiber ceramic refractory paper supplied by Amol Carborundom with the code AC-WOOL-P is a high purity alumina-silica insulation material. Amol Carborundom Company offers a wide range of fireproof insulating paper types.
General characteristics of fiber ceramic refractory paper
Fireproof ceramic paper is non-woven, asbestos-free and based on ceramic fibers. This product is used as a thermal barrier insulation in high temperature applications up to 1450 ° C. This alumina-silica product has very low thermal conductivity.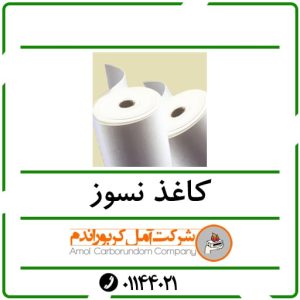 Applications of refractory paper
This product is designed for use in applications where purity, crack resistance, high strength and heat resistance are of great importance. Due to their exceptional resistance to heat flow, the product supplied by Amol Carborundom Company provides maximum thermal resistance where the space is suitable.
These materials are practically shotless. The reason for using this product is to be without glue for applications that can not tolerate gas leakage. In fact, these materials are used as a substitute for non-breathable grades that have a worrying fiber content and high purity compounds in which silica reduction is not allowed. Highly refractory paper has a low shot content. As a result, it is the best option for use as a sealant and gasket. It has also been used in other applications such as thermal barriers.
Advantages and special features of imported refractory paper of Amol Carborundom Company:
Thermal insulation required by industries, high corrosion resistance, heat insulation
The best option for use as insulation of tools, equipment and electronic heating element devices
Fireproof insulation material in automotive
Insulation of electromagnetic heaters
Applications of fiber ceramic refractory paper by industry:
Iron and steel industry: Sealants and seals of all kinds of flanges and similar equipment, thermal insulation and heat dissipation during the casting process
Non-ferrous metals industry: Insulation of lines, ducts and hardening during copper casting process and all kinds of copper-containing alloys
Ceramic industry: Used in kiln kilns and hot surface liners. This product is also used as a separator for areas with different temperatures and fire blocks
Glassmaking: molding glass
Kiln furnace construction: as a filler and insulation of the high expansion joint in the furnace
Renewable fuel vehicles: Used as an insulation layer between batteries
Technical Specifications
In the following, we refer to the technical specifications of the product provided by this company: